Doll Face, Watercolor on paper, 30 x 22 inches
Interview conducted by Deedra Baker, Art Room Program Director
A graffiti artist for the past decade, Carlos Donjuan, has been creating art since he was old enough to wield a pencil. His art is powerful, yet playful, and often depicts sub-cultures that the artist is interested in or involved with. His graffiti reflects his interest in street fashion, underground music, and the diverse and always changing culture he hails from, while his portraiture is more classic, mixing old and current ideas to create a statement about his surroundings that is fresh and new. Donjuan's main goal is to showcase both the influences from his origins and his training in academia.

​
These works invite visitors to journey with Donjuan as he continues to explore his personal narrative of societal constructs and perceptions of illegal immigration. A product of illegal immigration himself, Donjuan often reflects on his upbringing and the consequences associated with illegal immigration. He continues to redefine and contextualize the terms he has heard as a youth with the goal of a visual translation that everyone can relate to. His work is acutely personal, often referencing family and friends in hopes of gaining a better understanding of his fears of not belonging, failure, and even mortality. A young father himself, he is concerned that his son will face the same moral impressions that perplexed Carlos in adolescence. This new body of work aims to take on the pejorative term "alien" and looks to playfully appropriate its meaning with figures cloaked in sprightly shapes and patterns. The masked hybrid characters of people and creatures found in Donjuan's work allows the viewer to be comfortably confronted. — Carlos Donjuan
Golden Cage, Mixed media on paper, 36 x 36 inches
Deedra Baker: Describe how your background and education in art history directly influences your art.

Carlos Donjuan: I found that my work seems to tell a story about my past, present and future. My story begins with the idea of being born in Mexico and grew up in America. The concept of trying to better understand myself has led me to explore my history, both Mexican and American. People have expressed to me that I am not Mexican because I never really lived in Mexico, and I am not American because I wasn't born in the U.S.A. Later, I decided that I didn't need to fulfill anyone's predetermined label that they had planned for me. In order to be comfortable with the idea of creating my own future path, I had to first understand my past and present.
DB: What or who inspires you as an artist?
CD: I am greatly inspired by my surroundings and the people that are a part of my life. It is in these two things that I have experienced true happiness and also experienced some dark days. I strive to achieve a sense of balance in my life; so knowing my limits really helps with that.
Another thing that really motivates me is seeing the connection that some viewers make with my work. It's interesting when viewers interpret my work in their own personal way and find a connection. It adds to the idea of people trying to label me, but nothing really ever truly fits. I don't think that my work should ever be about just one thing, but about whatever you want it to be to better fit you.
One of the most inspirational things that I have encountered recently is my son Ari. Having him in my life has really taught me how to appreciate the little things. My work requires a great amount of focus and drive from me so I have to be aware of where I will find this energy. His existence in my life has provided me with an enormous amount of motivation that I have never experienced before.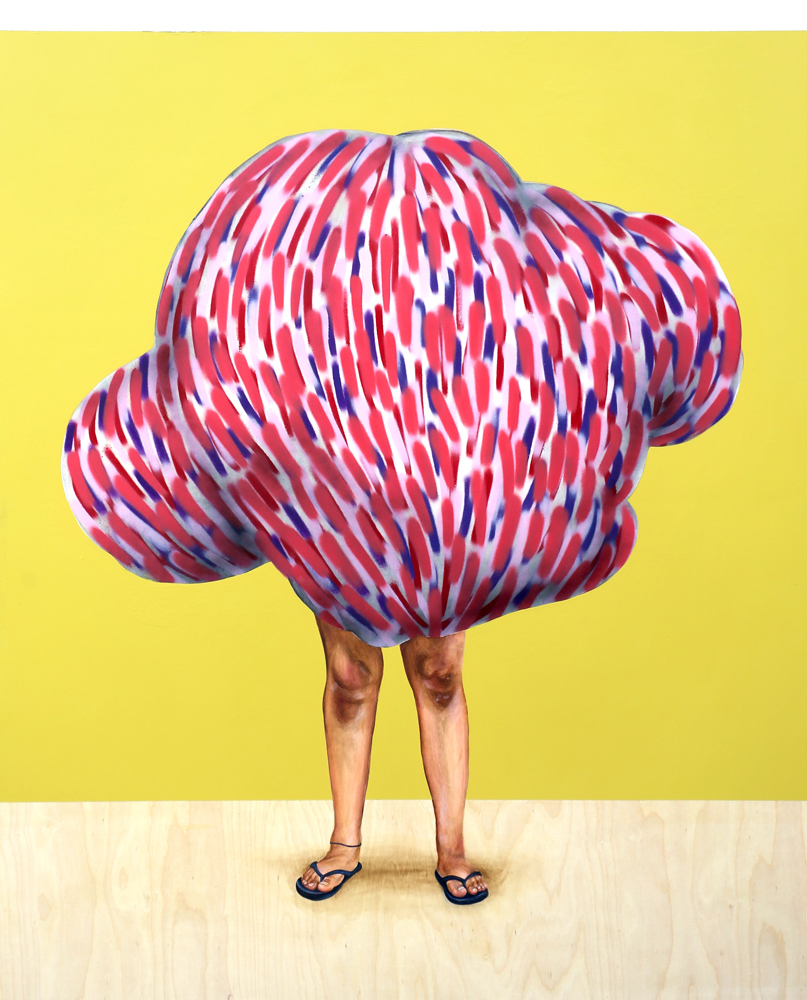 Everything Means Nothing, Mixed media on birch panel, 50 x 48 inches

DB: Your artwork uses bright colors and patterns as a point of entry to the socio-psychological content of your pieces. Can you talk about your aesthetic and how it influences the marrying of form and content?

CD: My approach to painting comes from my mixed training of becoming an artist. My training is half graffiti artist and half academically trained painter. Being a graffiti artist/muralist always pushed me to use bright colors to grab the attention of my viewer. Because my work in the streets was always up for public display, I wanted the viewer to be captured by my bright use of color and pattern. Studying art in academia not only taught me proper technique in art-making but also how to be more conceptually aware in my work. Having my education come from two very separate ways of thinking and making has allowed me to create a hybrid approach to my art practice. Graffiti taught me how to work large, to be aggressive, fearless, dedicated and made me feel like I was a part of something special. Academia taught me technique, history, concepts, professionalism, and how to speak about my work with a sense of confidence and self-understanding.
La Mari, Mixed media on paper on panel, 48 x 48 inches
​
DB: In Art Room's ONE exhibition, you exhibited pieces from two bodies of work. As an artist, do you find yourself working on several bodies of work at once or do you focus on a single project? What are you working on now?
CD: In my studio practice, I deal with different bodies of work. The concept is based on the same idea, but may take a different turn and explore a certain part of my idea in greater detail. I do my best to further explore my technique and experimentation with each body of work. When a new body of work is started, I also try to better understand my concept and dig a little deeper into the subconscious. This continued conceptual and technical exploration is what keeps me excited about making work.
I'm currently working on a body of work where I am preparing a show with my wife. It's exciting to create a dialogue between the two of us to see how we will communicate through visuals. We will find out new things about each other, whether they are differences or likenesses. I look forward to collaborating with her and also seeing our individual pieces interact with one another in a gallery space.
Another project that I am planning is a photographic body of work. I was awarded an artist's grant through the City of Dallas to make this project come into fruition. I will explore some of the ideas and compositions found in my paintings and translate them through photography. It will be exciting for me to see my work take a different creative avenue.​